http://www.guardian.co.uk/uk/2009/nov/04/1000-pound-ticket-to-scotland


Cross the Atlantic on the Queen Mary 2, ride the London tubes for a year – or take the train to Scotland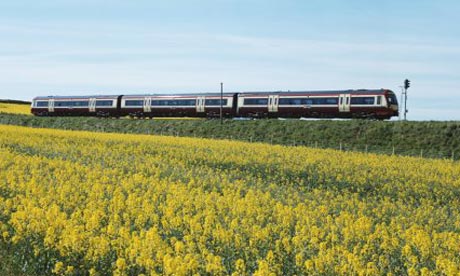 Inaudible Tannoy announcements. Limp sandwiches. Interminable delays. The British public have much to endure on the nation's rail network, but nothing raises hackles more than fare hikes. Rail users, then, must surely be weeping tears of despair at news of the first-ever £1,000 train journey.
It was revealed this week that if you turn up at Newquay station in Cornwall and ask for a first class "walk-on" return to Kyle of Lochalsh on the northwest coast of Scotland you will be quoted £1,002. Admittedly, it is highly unlikely that any sane person would want to endure such a journey. For example, if you were to catch the 14.58 from Newquay, you would arrive at Kyle of Lochalsh at 11.28 the following morning having made five changes, including a wait of more than an hour and a half at Crewe for the sleeper to Inverness.
To be fair, though, going by coach would require even more stamina. It takes 25 hours and 25 minutes to travel from Newquay to Inverness with National Express (you still have to make your way to Kyle of Lochalsh and the return fare is a somewhat more modest £134.10). Going by taxi, however, would cost £1,500 each way, according to Biotravel Taxis in Newquay.
But let's assume you want more for your £1,000. Here are some alternative travel options:
£1,032 Annual Transport for London travelcard, zone 1+2.
$1,000 (£610) 120 days of unlimited travel on US Greyhound buses.
£959 "Economy Plus" around-the-world flight on Qantas/BA with STA Travel (London-Hong Kong-Sydney-Los Angeles-London).
£743 One month first-class Inter-Rail Global Pass, valid across 30 countries.
£969 14 days aboard the Trans- Siberian Express (Moscow-Beijing).
£899 Six-night transatlantic crossing on the Queen Mary 2 cruise liner (suite or outside cabin).